The Course Architect
ANDY STAPLES
ASLA, ASGCA
Andy Staples is the President of STAPLES GOLF and has over 19 years of experience designing, building and managing golf courses throughout the world. His design experiences have brought him around the globe to Canada, Japan,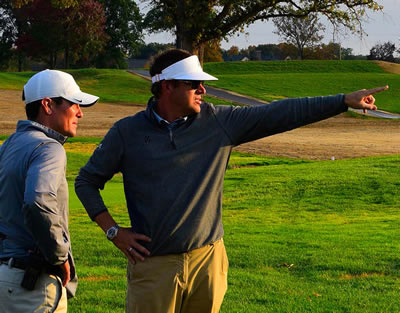 China, Europe, and throughout the U.S. He has been associated with some of the most notable courses across the U.S. including The Golf Course at Sand Hollow Resort in Southern Utah, Meadowbrook Country Club in Detroit, MI and Fayetteville Country Club in Fayetteville, AR. His projects have also played host to the PGA Tour, LPGA and Nike Tour events.

Andy was inducted into the American Society of Golf Course Architects (ASGCA) in 2010, the most prestigious governing body in his profession. He has also been a member of GCSAA since 1999 and a member of the American Society of Landscape Architects (ASLA) since 2000. Andy continues to lecture nationally on the subject sustainable golf design and management. His list of lecture locations includes Sustainability in Golf – The Business of Green annual conference on Hilton Head Island, the Golf Industry Show, local chapters of the GCSAA and the Harvard Graduate School of Design in Cambridge, Mass.

Andy is proud to be the driving force behind the concept of a "Community Links" and is determined to use the City of Hobbs as a case study to prove the value of the game of golf in a community. He feels Rockwind is destined to show the rest of the country how the a properly designed facility can be utilized to develop and educate a city's youth, spur excitement and pride in one's local community and continue to show verifiable economic returns on investment over the long term. Andy was awarded the 2015 ASGCA Design Excellence Award for his design of Rockwind Community Links.